Every student learns (beginning in class II) one from the list of Tabla, Violin, Music(Vocal), Bharatnatyam , Fine Art, Satriya and Scout & Guide on Saturdays. (Regular classes are not held on Saturdays.) The school follows its own syllabus, divided in four-part examination and completed in class X. Music classes are conducted under the banner of Rupkonwar Sangeet Kanan in memory of Jyotiprasad Agarwala, and Fine Art classes are organized under the banner of Kalaguru Sitrasala in memory of Bishnuprasad Rabha.
Students of classes VIII and IX practice Yoga under guidance on Saturdays. They demonstrate their acquired skill collectively at the conclusion of the 2-year course.
Under the banner of Einstein Bigyan Kendra the science and mathematics teachers demonstrate experiments in the classes II to VIII on Saturdays, which are not included in the texts. The purpose is to motivate the students further. AJB students have excelled in National Childern Science Congresses through the presentation of innovative projects.
Brahmapurta Recreation Centre, through Natepeeth,conducts a three year Diploma course in Acting admitting selected students for a period of 3 years. The classes are held on Saturdays.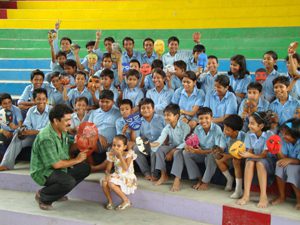 Radha Govinda Baruah Sports Centre imparts training in Chess on Saturdays to the willing students of class III to VII.
Rasaraj Sahitya Sora, a platform in memory of Lakshinath Bezbarua, involves teachers to conduct literary activities on Saturdays in the classes III to VIII other than the syllabus framework.
Mathematics Olympiad programme is organized on Saturdays to enchance interest in mathematics for the willing students of classes V to VIII divided in two groups.